"iz .news" : new paintings
New paintings since 2017
The most recent paintings combine intellectual and painterly discussions of older works from the Bali, music or vis-à-vis series with a previously unfamiliar, painterly formal language and new ideas that try to incorporate spatial and temporal dimensions. In retrospect, they put the cited works in an expanded context and thus also open up new access to those older paintings.
SEARCHING FOR TRACKS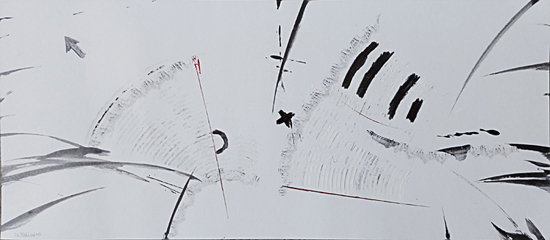 22421001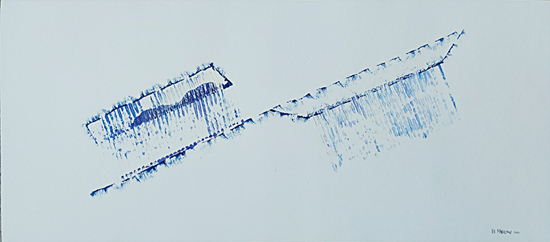 23221002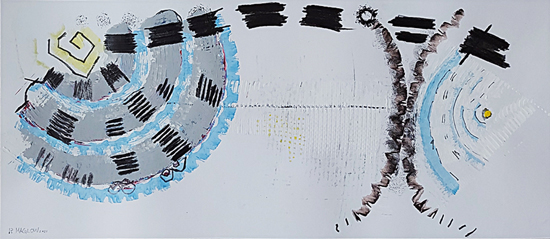 24421007
These works from 2021 thematize phenomena of our perception and partially implement this in ciphers. The more recent works are even more reduced in form and dynamics than the works from 2020.
TRACES OF PERCEPTION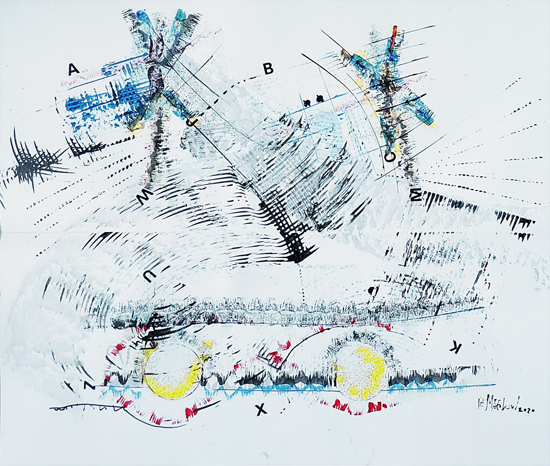 25420012
Drawings from 2020 attempt to address the phenomenon of "awareness" by allowing new, coherent structures to emerge from the superimposition of graphic elements on different levels.
TRACES: LIFE & TIME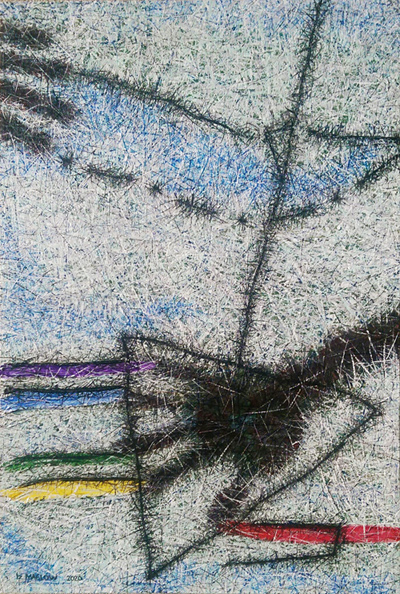 10120003
The paintings from 2020 adopt symbolic ciphers and combine them with structures from the "Cosmic" paintings of previous years. Handprints now dominate the canvas as a new visual element. These are inspired by hands in prehistoric cave paintings. They are painterly revised in such a way that they hardly stand alone as an impression, but connect with the surrounding structures.
Through the interaction of different elements, the paintings try to address aspects of life and the "environment" and initiate an unused approach through an unfamiliar presentation.
SPACE AND TIME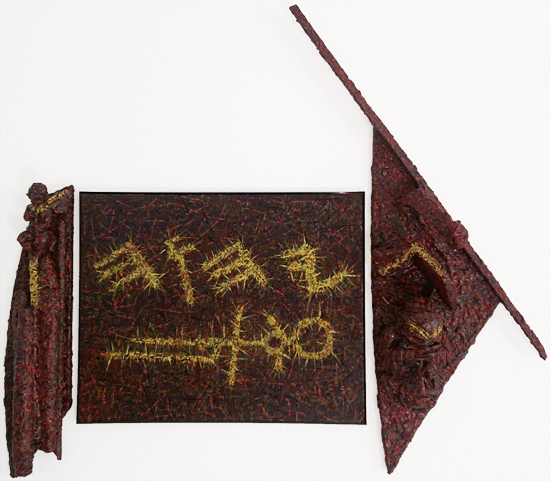 10619003
It is obvious that the paintings in the "COSMIC" series do not leave the discussion of "man and religion" and "space and time" unaffected. In 2019, works are created that articulate and interpret these topics with their own ciphers in structurally emphasized environments.
In the three-part work shown here, an indication of the old Hebrew lettering JHWH (JAHWE) rests on a human-like cipher, which seems to have a second "overhead" or "antennas". This scene is flanked by two asymmetrical wings that frame the central middle section and at the same time allow the entire work to point in one direction. On both wings there is a flute-playing angel figure, which formally unites with the background. The overall color scheme is extremely reduced. A uniform color structure that covers all three panels holds the entire work together. At the same time, it emphasizes the symbolic information of the middle section, which nevertheless remains as a riddle.
STRUCTURAL OVERLAYS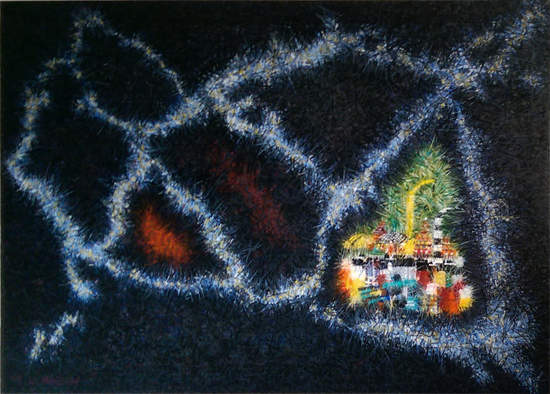 10519001
Paintings begin in 2019, which overlays both within the content-related topics as well as in the painterly structures and form a separate, small "COSMIC" series.
For example, the pictures like "COSMIC ODALAN" refer to Balinese temple ceremonies. In his Bali paintings, Iz Maglow has already shown how closely these regularly recurring events are interwoven with local nature and culture. Now individual quotes from these Bali paintings appear as set pieces, which in turn are interwoven with a much larger "cosmos". This mix of structures creates compositions that suggest journeys spanning space and time.
ATOMIC FIGURES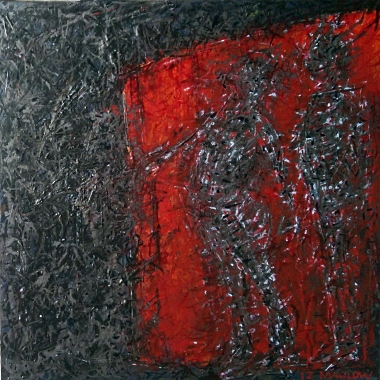 10517007
In contrast to paintings of the "human ciphers" series, which could still be traced from a linear association, the "ATOMIC FIGURES" of 2017/2018 seem to dissolve completely. In addition, they strive to form a structural unit with the background surrounding them. It appears that the object and background of the picture are made of almost the same "atomic" material. Almost like a symbiosis of (empty) people and (empty) environment, which ultimately leads to the "Cosmic Figures" and other "Cosmic paintings" from 2019.
In their painterly structure, these paintings are reminiscent of Iz Maglow's sculptures from the late 90s.
HUMAN CIPHERS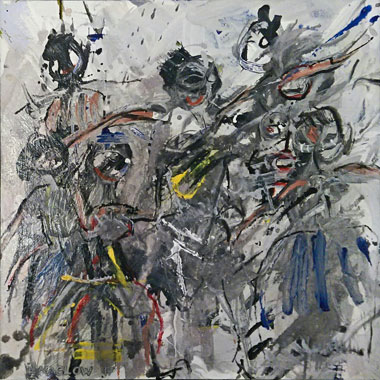 10517001
In "HUMAN CIPHERS" from 2017, Iz Maglow tries to abstract the initially linear paintings of his figurine "ensembles" even more. This refers to the elaboration as well as the painterly color spectrum. As a result, the associations in the viewer's head are only offered extremely shadowy ciphers. However, this less information opens up more scope for interpretation in the mental replication of what is seen.