"iz .art" : Sculpture & 3d / Introduction
In his sculptural works, Iz Maglow often deals with topics with which he also deals with in his paintings at the same time. The three-dimensional works can be divided into three groups: Small Sculptures ("Silent Witnesses"), which are coated with a layer of paint, Art Objects that directly or indirectly "articulate space" with everyday objects and Tempo Art, which deals with the object and the literal sense of the paper tissue with the name "Tempo".
Silent Witnesses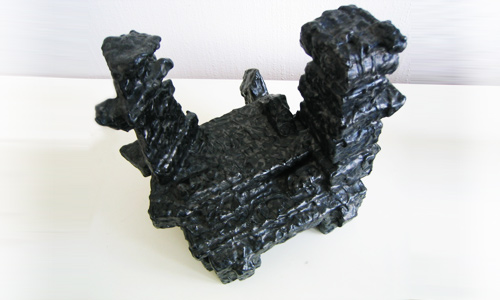 "Silent Witnesses" are what Iz Maglow calls the presentation of sculptures that sometimes deal with typical "vis à vis situations".
Art Objects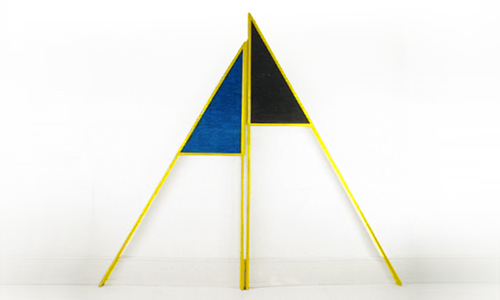 This section shows objects made of different materials, which deal with the surrounding spatial environment.
"Tempo" Art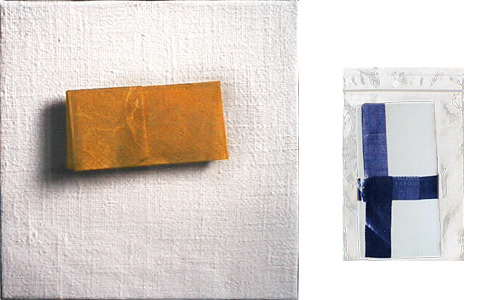 In these very early objects, the artist deals with everyday objects in a very unconventional interpretation.

At Tempo (1980 - 1981) Iz Maglow devotes his attention to another everyday object with his objects around the eponymous cellulose cloth. Both the type and quality of the pulp cloth and the ambiguity of the product name employed the artist in these art objects. The inevitably small works of art are structured as follows: "Format and Pattern", "Tempo vs. Speed", "Time in Tempo", "Nature and Structure"..
Sculptures and Art Objects by Iz Maglow
It is sometimes overlooked that Iz Maglow created sculptures and works of art in addition to his paintings. These works usually emerge parallel to the paintings, so to speak in an interplay of mutual inspiration.
In doing so, Iz Maglow shows that in his sculptural works he wants to implement the subject areas that dominate his painting in a completely different way. This resulted in three-dimensional results that show his engagement with "chairs" and at the same time take up and implement the vis-à-vis topic of the "Holy Annunciation".
In addition to free-standing sculptures, the painter also designed colorful and rich in formations of the wall and standing objects leaning against the wall. Other unfamiliar interpretations undoubtedly include his early "Daily Objects" and his ceiling objects. But even in his sculptures on the subject of "Velazquez" he resorts to quite opposite forms of expression, which can sometimes seem strange.
Individual Quotes / Press Reviews:
If the observer ... "... romantically attuned to a lovely "Maria in the bath" brushing her hair before a cheesy sunset, the completely unromantic "Susanna in the bath" awaits him 'around the corner' – an abstract, black sculpture that has nothing in common with an idyll ...." wrote the Frankfurter Rundschau in 1991 about his sculptures on the occasion of an exhibition in which Iz Maglow's paintings and three-dimensional works of art were juxtaposed.
In 1990, the Dutch art magazine t'Circuit quoted the artist as saying about his sculptures with the following words: "... First of all my objects are meant as a cheerful creation. Reflection comes in the second place. ..."