Latest Art News of Iz Maglow
2018 : NEW PAINTINGS
ATOMIC
First "Atomic Figures" were already created in 2017. Although in these works the volatility and the painterly dissolution process of the figures continues, the figures portrayed in 2018 in their entirety become more compact and comprehensible. Nevertheless, they simultaneously become part of a filament structure that fills the entire canvas and incorporates the figures entirely. In their picturesque structure, these paintings are reminiscent of Iz Maglow's Sculptures of the late 90s.

2017 : CIPHERS
2010 : ANNIVERSARY EXHIBITION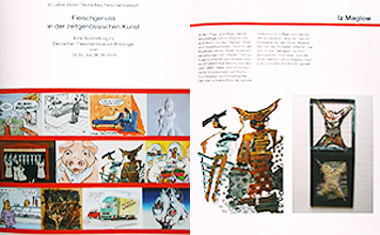 30 YEARS
DEUTSCHES FLEISCHERMUSEUM BÖBLINGEN
May 16th - September 26th, 2010
Anniversary Exhibition
with the museum's collection, loans and new art works by Iz Maglow and many others.

2007 : EXHIBITION
As part of the Stuttgart Cultural Night, the exhibition of Iz Maglow launches:
Expressive Paintings and
Musical Sound Pictures.
Oktober, 13th - end of 2007
Domsingschule, Landhausstr. 29
STUTTGART.
09:00 pm and 10:30 pm
guided tour by Jean Pierre de Longueville and Jazz improvisations by Michael Spors.

2005 : ART EVENT ROTTERDAM
Art Fair
ART IN AHOY ROTTERDAM
Oktober 7th - 9th, 2005
VIAP GALERIE
präsentiert Iz Maglow auf der
ART IN AHOY ROTTERDAM 2005

2005 : SOLO EXHIBITION
Painting exhibition of Iz Maglow
Mai 8th - June 19th, 2005
VIAP GALLERY
Nobelstraat 16, 6411 Heerlen, Niederlande
Telefon 31 (0)45 571 6820
In these expressive paintings of this art exhibition by Iz Maglow, implied figures and attributes merge, growing together as a single form and growing together in a common colored structure. The artist Iz Maglow paints, draws, scratches or tints with tempera and acrylic on canvas and on paper. His paintings are of expressive style.

NEW ART IN 2005
by Iz Maglow
Painter and his Model
The latest art of Iz Maglow shows colorful ensembles of figures, which revolve around the topic: "Painter and Model" or "a painter when portraying". The latter is a small series illustrating an "independence of the painter's masterpiece". As grown-up children leave their parents' home, the portrayed model of the newly completed painting emerges in this series of pictures to leave the painter, so that he has to face a new beginning.

+ + background story + +